As for today before I go further with my grandmother's story, I'm going to start with my other tried recipes first. Actually, those are the same sweetmeats as before but still also the different ones okay.
The first one I'm going to update is again an apple pie. I think I just love apple pie so much or is it because I always have dozens of apples stored in my fridge and I needed to do something before they started to decay? Erm, yeah. Anyway I think this is the best apple pie so far and I'm just going to use this recipe from now onwards, not only because the apple pie was just so delicious, but the sweetness was just so nice for me and it was so easy to make it (less the hassles ahhh~ =D). I got the recipe after browsing dozens apple pie recipes from the All Recipes. I found that almost all dozens of reviews for this recipe were good too. I just made simple design on the top crust using pie cutter and fork, simple! =P Unfortunately, I was already so tired to wait a bit longer for my pie to turn well browned, so I just turned off the oven a few minutes earlier, cheating! =P So, excuse the pale looked of my pie, still the taste was no less than splendid =D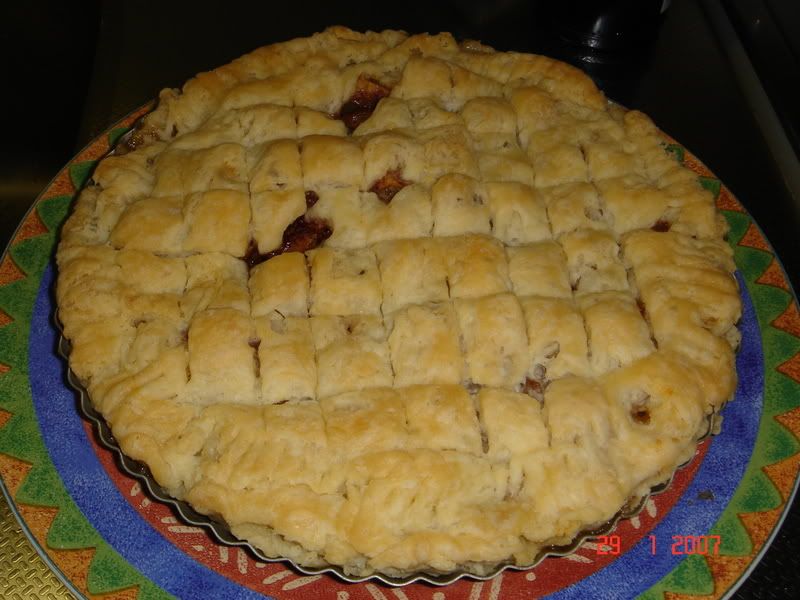 Just loving it =D
Apple Pie I
Ingredients
6 cups thinly sliced apples
3/4 cups white sugar ~ I used brown sugar
1 tablespoon butter
1 teaspoon ground cinnamon
1 recipe pastry for 9 inches single crust pie
Directions
Prepare your pastry for a two crust pie. Wipe, quarter, core and diced apples; measure two 6 cups ~ depends on high big your pan is.
Combine sugar and cinnamon. The amount of sugar used depends on how tart your apples are.
Arrange apples in layers in pastry line pie plate. Sprinkle each layer with sugar and cinnamon. Do top layer with small pieces of butter or margarine. Cover with top crust.
Place on lowest rack in oven preheated to 450 degrees F (230 degrees C). Bake for 10 minutes, and then reduce oven temperature to 350 degrees F (175 degrees C). Bake for 30 to 35 minutes longer. Serve warm or cold.
Note:
As for the pie crust I made it myself by using this recipe. I also added in 1 teaspoon ground nutmeg and the pie ended up tasted and smelled more delicious =D
Now as for the second recipe, I have tried making chocolate chip cookies again and also I got this recipe from All Recipes but I alter the recipe a little. This one was quite different from the last time I made since it was so crispy at the edges but also chewy in the middles; and this kind is my favorite! I really like the chewy type of cookies instead of crunchy ones. I don't mind to have the melted cookies glued at my gums and tooth instead of aching my tooth and gums crunching the tough ones. I tell you, once you tried it; you gonna love it just like I did hehehe ;D Anyway, mine was err pretty ugly since I didn't expect they would expand too much, so they ended up combined to each other. So next time I will just drop small batter balls or give wide spaces between the batter balls. On the tomorrow of the day I have given a one big jar of the well-shaped ones to Regene before I remembered to snap the picture of the cookies. But you can refer how the cookies should look like from here.
Chewy cookies!
Best Chocolate Chip Cookies
Ingredients
1 cup butter ~ softened
1 cup white sugar
1 cup packed brown sugar
2 eggs
2 teaspoons vanilla extract
3 cups all-purpose flour
1 teaspoon baking soda
2 teaspoons hot water
1/2 teaspoons salt
2 cups semisweet chocolate chips
1 packet dried grated coconut
1 cup chopped cashew nuts ~ you can use any kind of nuts you like
Directions
Preheat oven to 350 degrees F (175 degrees C).
Cream together the butter, white sugar and brown sugar until smooth. Beat in the eggs one at a time, then stir in the vanilla.
Dissolve baking soda in hot water. Add to batter along with salt.
Stir in flour, chocolate chips, and nuts. Crop by large spoonfuls onto un-greased pan.
Bake for about 10 minutes in the preheated oven, or until edges are nicely browned.
Last but not least, I have been tagged by Syana since I'm the only person who hasn't done my Celebrity-Look-Alikes collage yet while everybody else has already done recognizing their celebrities days or weeks ago. Well, funnily every time I used different pictures, the different results I would get. Same thing happened to Bie too but even more ridiculous results turned out to be muahaha!
Ada ker muka aku kejap macam Julia Roberts lah, Avril Lavigne lah, Madhuri Dixit lah, pastuh pelakon lelaki negro yang dolu-dolu nama amende ntah pun ada =P Yang paling tak paham n paling tak tahan adalah kenapa muka Suamiku disamakan dengan muka female celebrities? Setiap kali bubuh gambar mana-mana pun mesti banyak keluar gambar perempuan, pastuh sumernyer celebrity yang lawa-lawa plak tuh. Pastuh gambar lelaki dua tiga ketul ajer. Nasib baik yang encem-encem huhuhu =P Dah la muka yang kuar tuh Maggie Cheung lah (wajib ada pada setiap gambar), Gong Li lah, J.Lo lah, Emma Watson lah, Portia Derossi lah, Princess Rania lah, Beyonce Knowles lah, Bipasha Basu lah, Cindy Crawford lah, Britney Spears lah pastuh ntah sesapa lah lagi. Nande? nande? nande????? (nande means why?). Sesungguh dan sememangnya aku tak dapat terima. Adakah Suamiku seorang yang 'CHANTEKS'? Ehehe mungkin juga sebab my mother-in-law sendiri cakap muka dia macam muka perempuan. Pastuh ramai orang lain especially lelaki kata wajah Suamiku ini 'Jambu'. Jambukah dia? Dia kan orang, tak baik tau cakap dia buah jambu uhuhu =( Walaupun apa pun he will always be my Hunnie Love, my Ayang Comot, my Darling Bantal Peluk Masham, my Dear Muncit Bolat and Mucuk Sweetheart, gigit dia gigit dia grrr grrr grrr! =P =P =P
Lawaklah benda ni. Kalau ye pun nak tipu kasikla logik sket. Penat tau nak buat untuk dia sorang je berjam-jam huh! Last2 bila dah nak fed-up dapat jugak cari gambar yang sesuai n menghasilkan majoriti gambar lelaki okay =P =P =P Tapi aku tak kenal pun saper manusia2 tuh, tak glamour la kot kan ahaha! (Anyway Bie, I'm sorry la since I have to use your gambar comot ni ehehe ;D)
Mine
My Bie's